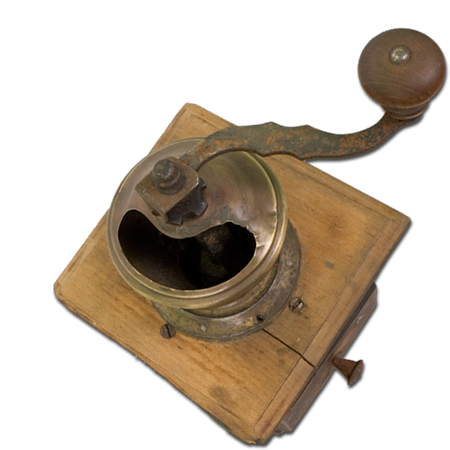 In the beginning there was a stone. Along with Homo sapiens, a new activity has emerged. More specifically, grains were ground into uneven pieces with a stone. To grind more effectively, one had to put even greater force and accuracy into it. This is how rolling was introduced. People granulated, ground and chaffed various products: grains, spices, medicines. Wooden, brass or stone mortars were used. Those tools had one particular drawback – it took considerable force to obtain satisfactory fineness of milling. In the end, the mortar was replaced with a handy grinder, which was at first made exclusively of iron.
Fineness of grinding has become a sine qua non of "good coffee". To get a delicious aromatic brew, one should follow a couple of basic rules:
1. coffee beans gain heat during grinding, the temperature reached in the course of friction influences the taste of the infusion.
2. the more even in size ground coffee bean particles are, the better brewing control
3. the finer the particles, the better flavour and aroma.
Coffee should be ground in a manner depending on the brewing technique:
100-300 coffee bean particles: a French press – very coarse coffee grounds,
500-800 coffee bean particles: filtered coffee – a drip filter coffee maker,
1000-3000 coffee bean particles: a Moka pot (Italian coffee pot)
3500 coffee bean particles – espresso
15000-35000 coffee bean particles – Turkish coffee, coffee powder to be put in a cezve pot.